Spiritual
Personality
Quiz
Divine Plan
Prayer Network
DIVINE
Mother
DIVINE
Message
Healing
Famous People
Author
The DIVINE Plan of energy and matter affects us

There is an all-knowing life force that is more than one person, yet remains an integral part of each individual. Every object, as large as the universe or as small as an atom, has the blood source of energy and the bone and muscle source of matter. Since everything is made of the same " life substance," then all are related.


If you step back from your perceived reality, you can imagine one tiny cell, your physical structure, the earth, the trees, the sky and the universe, functioning as one all-encompassing living body.



This living structure is the DIVINE Plan

Just as your body functions within its own shell of skin and fluid, so do all aspects of your universe and beyond. You are an integral part of a DIVINE Plan where all things function within a larger enclosed system. A life of extreme drinking, yelling or meekness will in time affect your body's mental and physical health, just as the abuse or lack of assertive action to achieve balance affects the outcome of the All-DIVINE body.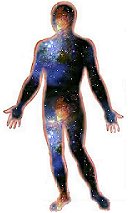 You live within an integral system that is a greater factor of yourself. Once you understand that the DIVINE Plan is a larger entity of you, then you can control the health and welfare of your All- DIVINE body---all that exists.

Welcome to the plan of oneness and unification. You are an integral part of the DIVINE Plan.

All of the questions of the universe can be answered within the human body, while the mysteries of our own bodies are discovered
among the stars.